| | |
| --- | --- |
| | The Vocational Service programs of Lawrenceburg Rotary include Scholarship, Service Above Self Awards, and Four Way Test. Several of these programs overlap with Youth Service. |
SCHOLARSHIP APPLICATIONS AVAILABLE
Student Recognition and Scholarships:
Education is the key to success for our community's young people. Lawrenceburg Rotary recognizes Students of Excellence, and awards college and vocational scholarships to deserving students from the three high schools in Lawrence County.
Annual Lawrenceburg Rotary Club Scholarships
| | |
| --- | --- |
| Vocational Scholarships (8 @ $500 per Semester) | $ 4,000 |
| Scholarship for Non-Traditional Students (1 @ $500) | $ 500 |
| Total | $ 4,500 |
.
Outstanding Students from each of the county's high schools are presented a plaque and recognized at a club meeting that is held in the late spring.
.

Lawrenceburg Rotarians endeavor to practice the Four Way Test in their personal and business lives, and our club participates in the District 6760 Four Way Test Speech program.

Outstanding students at each of the county's high schools are invited to develop and make a three minute presentation on the principles of the Four Way Test. Each school selects a representative who is invited to speak at Lawrenceburg Rotary.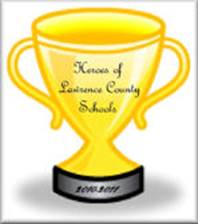 Lawrence County School System Hero's Banquet:
The Hero's Banquet is a project of the Lawrence County School system that was established to recognize teachers, students, and Lawrence County alumni who have distinguished themselves academically and professionally. The banquet honors teachers of the year at each of the county's elementary, junior high, and senior high schools. In 2012, Director of Schools and Lawrenceburg Rotarian Dr. Bill Heath approached our club for primary sponsorship. The club provides $4,000 funding to cover banquet cost.
Click Here for Information About Becoming a Member