Middle Tennessee District Fair sponsored by Lawrenceburg Rotary
Middle Tennessee District Fair sponsored by Lawrenceburg Rotary

Click Here To Purchase Tickets
CONCERT TICKET PRICING
Note: Concert Ticket Prices DO NOT INCLUDE Fair Admission
Convenience Fees Apply For Arena Floor Purchases
| | |
| --- | --- |
| Covered Grandstand, General Seating (First Come First Served) | $ 5 |
| Arena Floor, Bronze Section (Reserved Seating, Rows 18 - 25) | $ 15 |
| Arena Floor, Silver Section (Reserved Seating, Rows 8 - 17) | $ 25 |
| Arena Floor, Gold Section (Reserved Seating, Rows 3 - 7) | $ 40 |
| Arena Floor, Platinum 2 Section (Reserved Seating, Row 2) | $ 50 |
| Arena Floor, Platinum 1 Section (Reserved Seating, Row 1) | $ 75 |
| Arena Floor, Pit Standing Area At Stage (No Chairs) | $100 |
| | |
| | |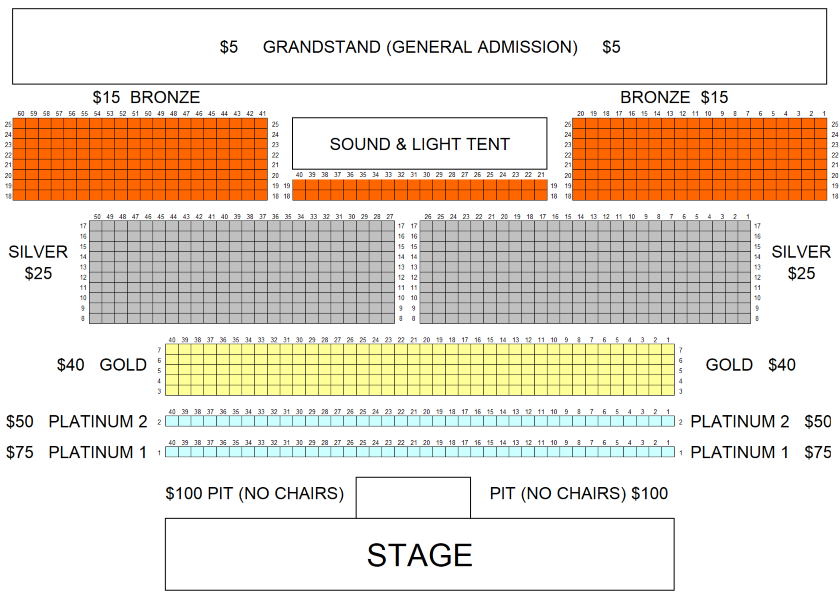 CLICK HERE TO PURCHASE TICKETS
Convenience Fees Apply
Box Office Tickets On Sale At Lawrenceburg Rotary Park
Beginning Tuesday, September 5, 2023.
Monday - Friday, 10:00 am - 4:00 pm
Convenience Fees Apply For Arena Floor Purchases
BEWARE OF SECOND PARTY SELLERS
Second Party sellers sometimes purchase a block of tickets for resale at a higher price. These sellers may omit important information such as age requirements or other restrictions.
MTDF is not liable for refunds on tickets not purchased in person or through
Agile Ticketing Solutions.
Adult Beverages Available for Arena Floor Ticket Holders
Must Be 21 To Purchase Adult Beverage